"In November 2019, I underwent life-saving treatment for a heart attack as a result of long-term diabetes. To thank my cardiologist, Dr. Della Siega, and the care teams that helped in my recovery, I decided to take on a half marathon fundraiser for our hospitals."
–Leslie Ann Bent, FCPA, FCA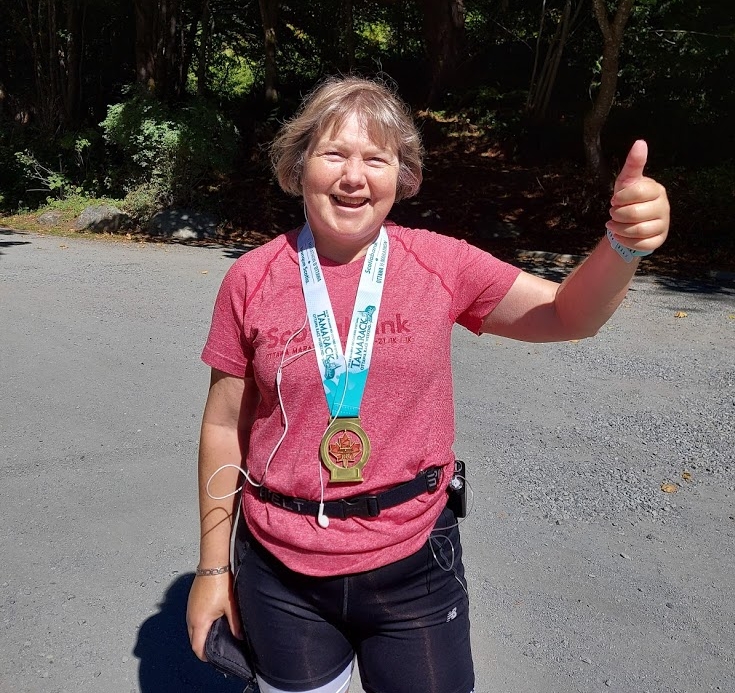 I didn't plan on needing life-saving surgery that day in November. But when I was diagnosed with Type 1 diabetes at just ten years old, I learned that unexpected health complications can be an everyday reality.
I was driving home from work when all of a sudden I felt a tightness in my chest. I'm quite aware of my health—I knew something was terribly wrong. Suspecting it was a heart attack, I quickly took some aspirin and called 9-1-1.
An ambulance arrived to take me from my home in Shirley, between Sooke and Port Renfrew, to Royal Jubilee Hospital in Victoria. It's about an hour's drive. When we got to the hospital I was immediately taken into surgery with Dr. Della Siega. He inserted two stents to open up my arteries, allowing better blood flow to my heart.
Over 40% of patients in our Victoria hospitals come from outside of Greater Victoria. Our Victoria Hospitals are critical care centres for patients from across the Island.
Weeks later, I had another—planned—stent surgery in January. I was finally able to start my recovery. But as I would soon find out, healing from surgery wouldn't be my only challenge.
Soon into my recovery, COVID-19 began to spread around the world. I was concerned—the combination of heart disease and Type 1 diabetes (and its autoimmune nature), would put me at a higher risk for contraction and complications. Still, I felt a strong drive to do my part and help our local hospitals after my experience.
I wanted to help our hospitals and caregivers by putting much needed protective and critical care equipment in their hands, and to help them respond to COVID-19. As a seasoned distance runner, it only felt natural to raise money by running a half marathon. I chose to support the Victoria Hospitals Foundation's It's Critical campaign through an online fundraiser that my friends and family could support, virtually.
You can make an impact for Island patients. Create your own fundraiser and support our local hospitals.
When I finally completed the race in September, I broke the race into kilometres and dedicated each one to a different sponsor, medical personnel, or friend who supported me in my cause. Kilometre number ten was dedicated to the medical team who cared for me at Royal Jubilee Hospital. Their support gave me the strength and determination to get to start and finish lines. After the race, I proudly donated over $800.
Reflecting on my experience and the extent of COVID-19, I now understand how lucky I was. If I had had my heart attack only a few months later, it would have been a completely different experience. Getting to the hospital would have taken longer due to increased health protocols, medical staff would have been dressed head to toe in Personal Protective Equipment (PPE), and I would not have been able to have visitors in my recovery room.
Your support means more critical care capacity for our friends and neighbours across the Island.
I am very grateful to be able to live in my community in Shirley, while still having access to world-class healthcare in Victoria. It's so important that we all, no matter where we are on Vancouver Island, find meaningful ways to support our local hospitals.
– Leslie Ann Bent, FCPA, FCA