MULTI-MILLION DOLLAR GIFT ANCHORS NEW CRITICAL CARE UNIT ON THE ISLAND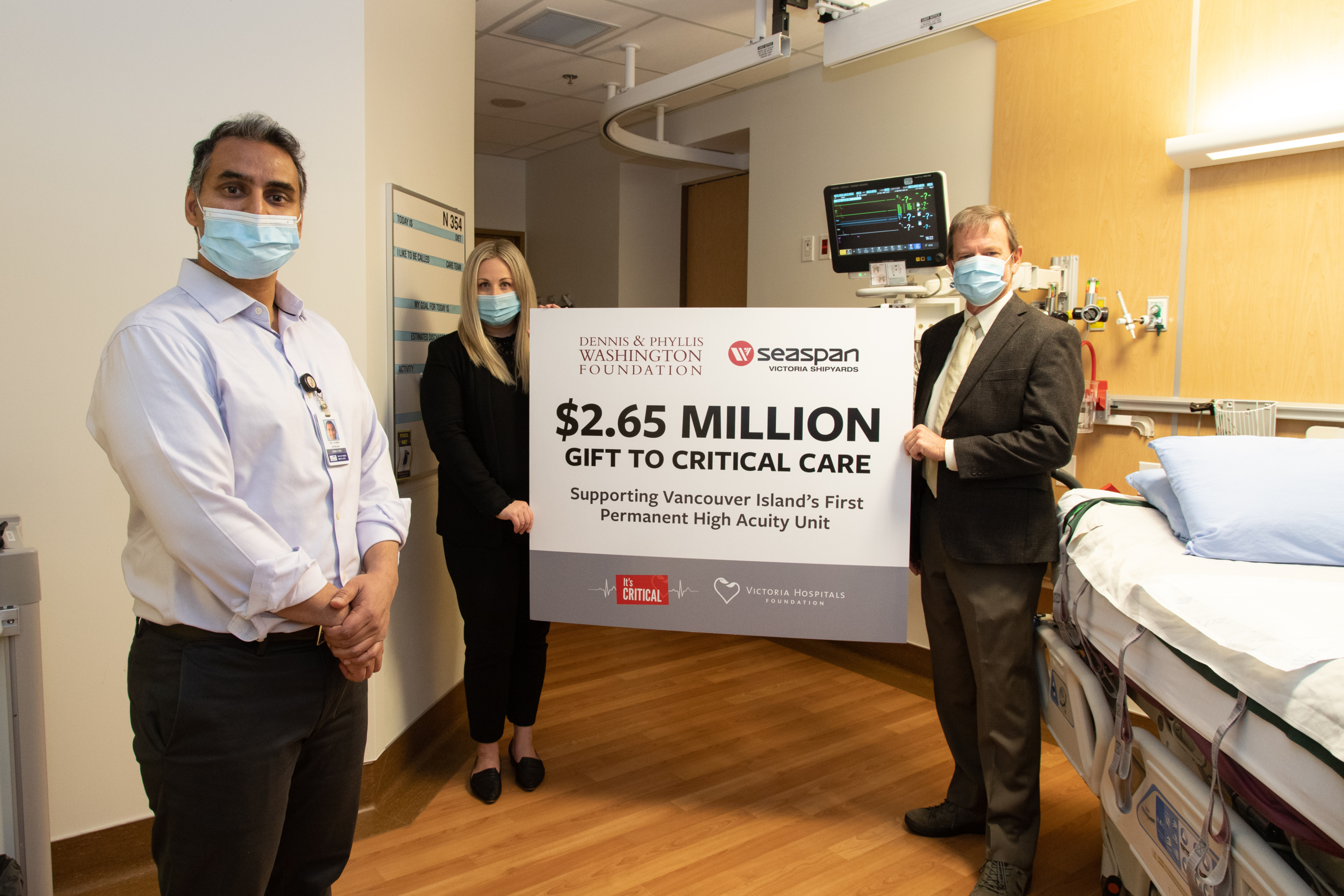 Seaspan Victoria Shipyards and the Dennis and Phyllis Washington Foundation Make Transformational Gift to the Victoria Hospitals Foundation, Supporting Royal Jubilee Hospital
A $2.65 million gift from Seaspan Victoria Shipyards and the Dennis and Phyllis Washington Foundation means critically ill patients across Vancouver Island are now one step closer to getting the care they need in a permanent, purpose-built High Acuity Unit (HAU) located at Royal Jubilee Hospital (RJH).
The transformational donation will accelerate the work towards a future permanent HAU, which will boost critical care capacity at RJH by 73%. The permanent HAU will provide the Island's critically ill with more monitoring and specialized care than available in acute care settings.
HAUs are an intermediate level of care between Acute Care units and the Intensive Care Unit (ICU), for patients recovering from surgery, severe respiratory distress or those being treated for serious medical conditions like COVID-19. The level of care offered in an HAU is vital to managing hospitalization surges due to influenza, a pandemic response or mass casualty events by reducing pressure on emergency departments and ICUs.
"When we heard that Vancouver Island was the only health region in the province without this kind of unit we knew we had to act, especially considering the unprecedented impact COVID-19 is having in our communities," said Joe O'Rourke, Vice President and General Manager of Seaspan Victoria Shipyards. "On behalf of over 3,100 employees in BC, including 1,000 locally, Seaspan is proud to be part of this lasting gift that will benefit the Victoria area now and for generations to come."
"Giving back to the community is in our DNA – as companies, and as a family," said Kyle Washington, Executive Chairman of Seaspan ULC. "Seaspan and our Foundation believe that critically ill members of our community should have access to the critical care they need. We are honoured to give back to this island community that we are so proud to be a part of."
"The vision and generosity of this donation goes beyond bricks and mortar and life-saving equipment", said Avery Brohman, Executive Director, Victoria Hospitals Foundation. "It speaks to our partners' commitment to community and preserving the exceptional quality of life Vancouver Island is renowned for offering. Working alongside Seaspan, a company with such a giving heart and exceptional core values was an absolute joy, especially during a time where kindness and generosity is needed more than ever."
Today's announcement of this transformational donation brings VHF's $7 million It's Critical fundraising campaign to more than 65% percent completion. It represents the largest capital investment in critical care in Victoria by any funding partner in 20 years, and means the second phase capital investment part of the campaign is more than halfway complete. The first phase of the campaign reached its $1 million goal in October 2020 with donor-funded leading-edge critical care equipment supporting the opening of an interim HAU.
To learn more about It's Critical, or to donate please call 250-519-1750 or visit victoriahf.ca/critical.
https://www.victoriahf.ca/wp-content/uploads/2020/11/DrOmarAhmad-AveryBrohman-JoeORourke-scaled.jpg
1707
2560
Victoria Hospitals Foundation
https://www.victoriahf.ca/wp-content/uploads/2018/04/vhf-logo.png
Victoria Hospitals Foundation
2020-11-17 08:00:22
2020-11-17 19:05:07
MULTI-MILLION DOLLAR GIFT ANCHORS NEW CRITICAL CARE UNIT ON THE ISLAND