"Feels good to do good! [This Thanksgiving], McBOP delivered 64 cuddly pals—each wrapped in it's own hand stitched blanket—to the children's ward at Victoria General Hospital. This is a project we call BEARS 'N BLANKETS and it was started 3 years ago by McBOP Paralegal Kathy, who has been with the office for 30 years!"
—McConnan Bion O'Connor & Peterson Facebook Page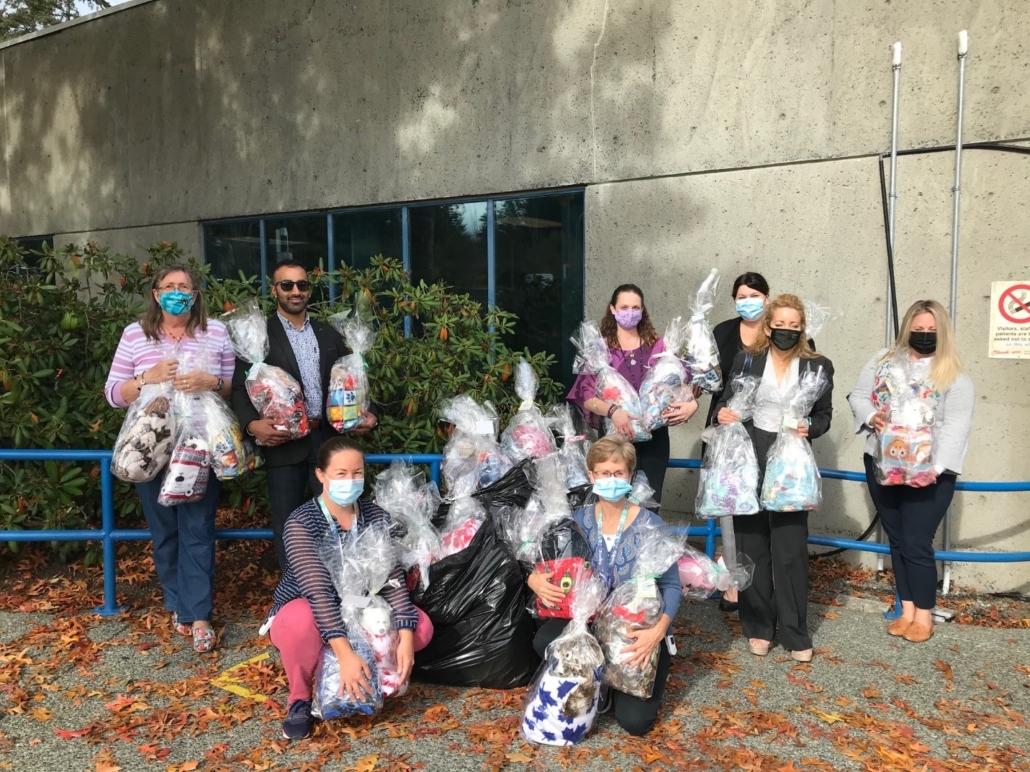 For the third Thanksgiving in a row, local law firm McConnan Bion O'Connor & Peterson delivered Thanksgiving gifts to the Pediatrics Unit at Victoria General Hospital. Over 60 stuffed animals wrapped with blankets and other gifts were presented to the Child Life team to share with kids in the hospital. This wonderful initiative is led by paralegal Kathy Welham.
Victoria General Hospital is the pediatric specialty hospital for Vancouver Island. Dedicated pediatric, trauma, and neonatal intensive care units provide expert care for critically ill and injured children, and the emergency room is specially equipped with the latest in pediatric technology. Thanks to world-class physicians and high-end equipment, less than 1% of pediatric patients have to be transferred to the mainland.
McConnan Bion O'Connor & Peterson has been a long-term supporter of the Victoria Hospitals Foundation since 1993. In addition to these wonderful Thanksgiving gifts delivered for the past three years, they have supported our hospitals through our Visions gala, the Uplands Heart Tournament, and other initiatives over the years. One of their founding partners, Michael J. O'Connor Q.C. chaired the Foundation board as well as the $17 million Together We Care capital campaign. Another partner, Charlotte Salomon Q.C , recently made a $200,000 matching pledge through her family foundation, the Salmon Robinson Family Foundation.
The Victoria Hospitals Foundation and the patients we support are deeply grateful for the support of McConnan Bion O'Connor & Peterson and their dedicated team.