Twins Olivia and Audrey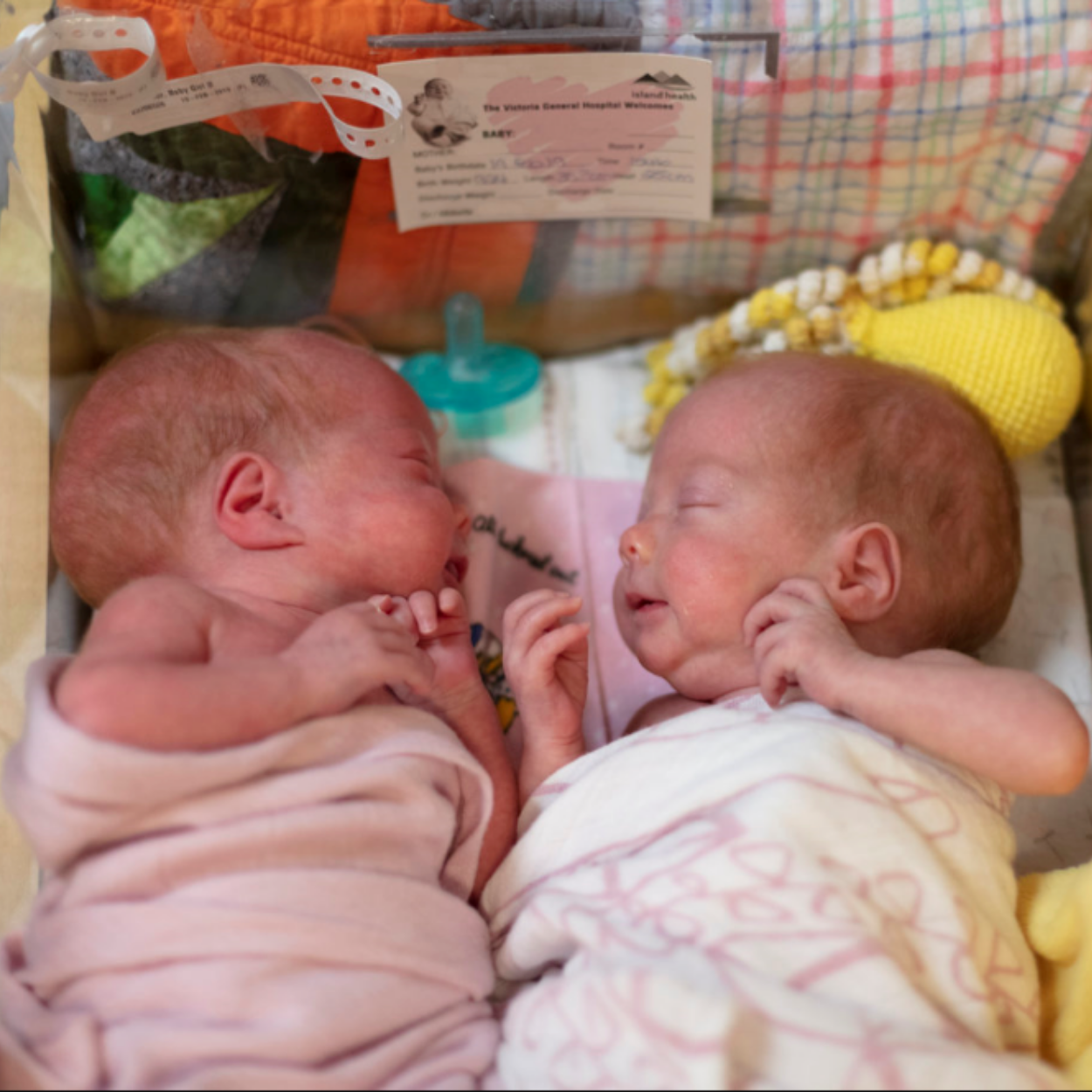 This is the story of identical Vancouver Island twins, Olivia and Audrey, who received life-saving care from the specialized care team in the Neonatal Intensive Care Unit (NICU) at Victoria General Hospital (VGH).
After a year trying for their first baby, Victoria-based Ryan and Shawna Heavenor were about to visit a fertility clinic when they happily discovered they were pregnant with identical twins. "We were over the moon," says Ryan. "This was a dream come true for us. Two dreams come true!"
But their journey towards becoming a family of four wasn't as smooth as they had hoped for.
At 19 weeks, during a routine scan at VGH, Shawna and Ryan's babies were diagnosed with twin-to-twin transfusion syndrome (TTTS). TTTS is a disease of the placenta that affects certain identical twin pregnancies, resulting in an uneven share of the placenta and blood flow. While Olivia had too much amniotic fluid and blood flow, which put her at great risk of heart failure, Audrey was constricted in the amniotic sac with very little fluid and at risk of her bladder and stomach shrinking.
Soon, the twins' condition worsened. Given a week to live, their only option was a rare, emergency surgery available in Toronto. With an 85% chance of one baby surviving the surgery and 65% for both, Shawna and Ryan were frightened and alarmed. Thankfully, the surgery went well and to Shawna and Ryan's indescribable relief, both babies survived.
Back home at VGH, the referral centre for maternity and pediatrics on Vancouver Island, Shawna was monitored closely post-surgery. Olivia wasn't growing at the same rate as Audrey. One of their maternity-fetal medicine specialists encouraged Shawna to take a steroid shot to help the twins' lungs develop ahead of labour, which could very much be pre-term.
On February 5, 2019, Shawna began dilating. She was admitted to VGH, where she would stay for the rest of her pregnancy. Two weeks later, her water broke.
There were two terrifying possibilities.
First, now that they had dropped, and without the amniotic sac to protect them, the twins were at risk of serious harm by infection. The care team at VGH started Shawna on antibiotics.
Second, through regular ultrasounds, the care team discovered that one of the twins' umbilical cords was blocking the opening of the cervix. With both babies provided blood flow through the same placenta, if either one of their umbilical cords was pinched, the lives of both babies could be at risk. Shawna was lucky to have been put on bed rest and monitoring at VGH. If her water had broken at home, her care team might not have had time to effectively respond.
On February 19, at 27 weeks and five days, Olivia and Audrey were born weighing a mere 2-pounds, 1-ounce and 1-pound, 11-ounces. Olivia wasn't breathing at first, but soon let out a little scream. The twins were placed in special bags to keep them warm, and each baby had a team of five medical professionals waiting to tend to them in the NICU.
 The NICU at VGH provides intensive care for critically ill or premature infants and those experiencing complications right after birth, including cardiac, respiratory, ophthalmological, or auditory issues. One of only four high-level NICUs in the province, the unit's specialized team of clinical and administrative staff — nurse, physician, clerk, rehabilitator, dietitian, therapist — play a vital role in every little one's journey.
Olivia and Audrey needed constant monitoring and help to keep their lungs inflated. They were seen by several specialists, including Neonatology Section Head, Dr. Gustavo Pelligra.
"Olivia and Audrey were born very premature, and for that reason at risk for developing several complications. But – they were little fighters from the very beginning," recalls Dr. Pelligra. "Our team monitored them every second to ensure they would grow and develop well, gain weight, and breathe normally."
On March 1, they found a large blood clot inside Olivia's heart. Because it was rare for so young an infant to have a blood clot, and premature babies are already at high risk of brain bleed, the neonatal care team very cautiously began treating her with a blood thinner.
"That was a lot of added stress," admits Shawna. "We didn't know what to do. At any moment, the clot could dislodge and fatally travel to her brain or lungs." Fortunately, Olivia and Audrey's vital signs — like heart rate, breathing, and blood pressure — were continuously monitored through the patient monitors, which provided critical information to pediatric caregivers even when they weren't right at Olivia and Audrey's bedside.
"For the first month, the twins would stop breathing or their hearts stop beating. They would need stimulation to start up again. The monitors immediately alerted the nurses whenever there were troubling changes to our daughters' vital signs," says Ryan. "Without patient monitors, they likely wouldn't have made it."
On behalf of families like the Heavenors, the Victoria Hospitals Foundation is asking you, our community, to help raise $1.8 million to fund 40 new monitors for VGH's NICU and sister unit, the Pediatric Intensive Care Unit (PICU) through the You Are Vital: Pediatrics campaign. Since vital signs are used for diagnosis and monitoring in 100% of cases in the NICU and PICU, and since one in six newborns at VGH spends time in the NICU, your donation will help to give our littlest patients, like Olivia and Audrey, the best chance at starting life healthy and happy.
After 79 days in the NICU, the twins were discharged. "After such a long journey, we were relieved and overjoyed to come home with both our babies," says Shawna. "We are just so grateful."
But the care team in the high-level NICU will forever have a special place in their hearts.
"They love what they do. You can tell they want to be there. They are very skilled, tailoring care to the twins' needs. I knew they would do everything possible to help them get well. They didn't take chances. They took their time in deciding what needed to be done at every stage," says Ryan. "They saved our little girls."
"Olivia and Audrey were their babies too," says Shawna. "I knew our Olivia and Audrey were in good hands and really being loved."
For more information on the You Are Vital: Pediatrics campaign, and to support our VGH neonatal and pediatric care teams so that more Vancouver Island children can survive and thrive, please visit www.victoriahf.ca/vitalkids
https://www.victoriahf.ca/wp-content/uploads/2019/06/Perfect-Square-Image-7.png
1250
1250
Victoria Hospitals Foundation
https://www.victoriahf.ca/wp-content/uploads/2018/04/vhf-logo.png
Victoria Hospitals Foundation
2019-06-07 19:34:55
2020-02-10 22:25:57
Twins Olivia and Audrey