Young Patients at Victoria General Hospital Thank Firefighters for $25,000 donation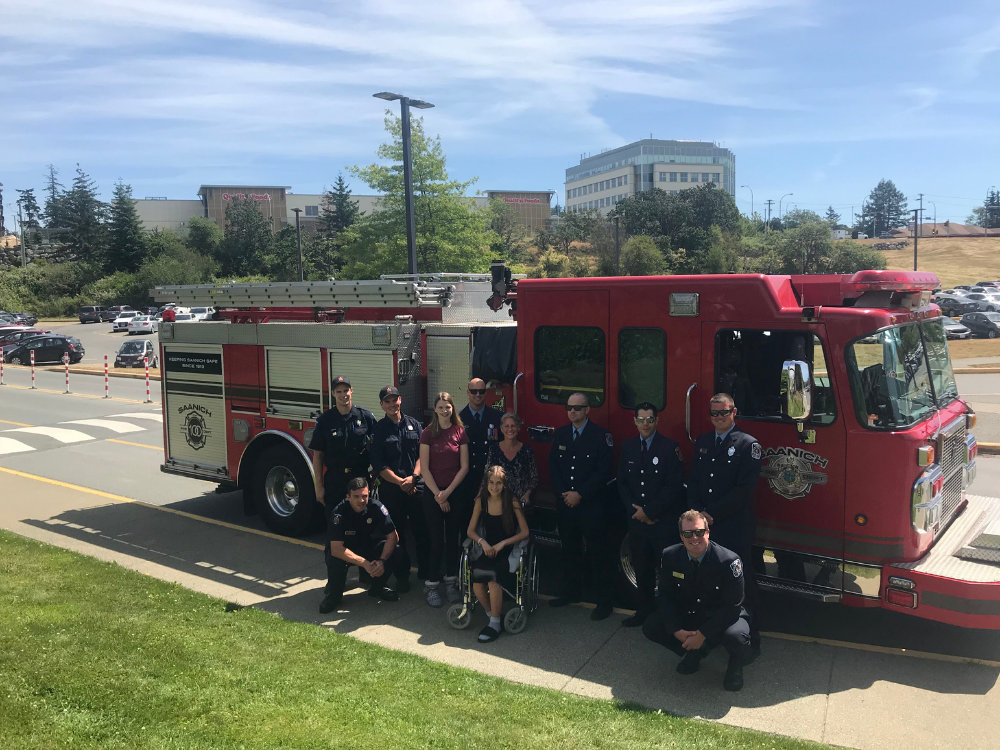 The Professional Firefighters of Greater Victoria Community Foundation gathered today at Victoria General Hospital (VGH) to present a cheque for $25,000 to the Victoria Hospitals Foundation. The gift is part of a 10-year $250,000 pledge made by the firefighters in 2011 to fund an array of leading-edge equipment for the Pediatric Unit at VGH. 98% of pediatric cases on Vancouver Island can be treated at VGH.
"We are so grateful for the commitment and dedication the Professional Firefighters of Greater Victoria Community Foundation has shown to our tiniest patients," said Tom Siemens, Victoria Hospitals Foundation Board Secretary at today's cheque presentation. "When a child is sick, nothing is more important than helping them get well again. Better tools and equipment means better healthcare for our children, and we are thankful the firefighters are committed to ensuring our community's most vulnerable pediatric patients have the best possible chance at not only surviving, but thriving."
The firefighters were thanked by a small group of children, all present patients from the Pediatric Unit at VGH, with a thank you card and drawing. Following the cheque and card presentations, the youngsters were invited to explore a firetruck and meet the firefighters.
"It's so heartwarming to meet some of the children our pledge has helped," said Brian Swanson of Saanich Firefighters Charitable Foundation. "The equipment we are funding allows children and their families to overcome critical health challenges and go on to live full and healthy lives. We are proud to do everything we can to help our local hospital provide the best possible care, right here at home."
The Professional Firefighters of Greater Victoria Community Foundation includes members from Saanich, Oak Bay, Victoria and Esquimalt. Throughout the year, the Firefighters raise funds through community events such as Rock and Roll for Little Souls, Rib Fest, Fashion Inferno, and Sausage Fest.
"We are grateful to our community for supporting our events year after year. We are stronger together, and together we make a difference for healthcare in our community," adds Swanson.
Including today's cheque, the firefighters' pledge payments total $225,000. This next gift will contribute to the Victoria Hospitals Foundation's latest campaign, You Are Vital: Pediatrics, which aims to raise $1.8 million this Spring to fund 40 new monitors for life-saving neonatal and pediatric care at VGH. Previous gifts from the pledge have supported critical equipment for the PICU and NICU at VGH such as an infant resuscitation unit and a specialized pediatric ventilator.
"Patient monitors are vital pieces of equipment our care teams use every second of every day with every tiny patient we see," said Gillian Kozinka, Manager of the Neonatal Intensive Care Unit (NICU) with Island Health. "The You Are Vital: Pediatrics campaign and the support of the Professional Firefighters of Greater Victoria Community Foundation help ensure our pediatric caregivers have the best possible tools so that our littlest and most fragile patients can continue to receive exceptional care here at home. We are just so thankful."
Patient monitors record and monitor vital signs and are used in 100% of cases in the NICU and PICU. More than 3,000 babies are born and 2,000 pediatric patients are cared for every year at VGH. One in six newborns will spend time in the NICU, and one in eight children will require care in the PICU.
At the forefront of newborn and child care, Victoria General Hospital is the referral centre for maternity and pediatrics on the Island, and accepts transfers from within the province. Host to one of BC's four high-level NICUs for critically ill newborns, and one of its two PICUs for critically ill children aged 0-17, the teams care for young patients who may require life-support, special medications and one-to-one observation.
To learn more about the You Are Vital: Pediatrics campaign, please visit www.victoriahf.ca/vitalkids.
https://www.victoriahf.ca/wp-content/uploads/2019/06/Website-Blog-Post-3.png
750
1000
Victoria Hospitals Foundation
https://www.victoriahf.ca/wp-content/uploads/2018/04/vhf-logo.png
Victoria Hospitals Foundation
2019-06-13 19:29:44
2023-02-27 15:55:04
Young Patients at Victoria General Hospital Thank Firefighters for $25,000 donation