18th Annual Fix-A-Heart Campaign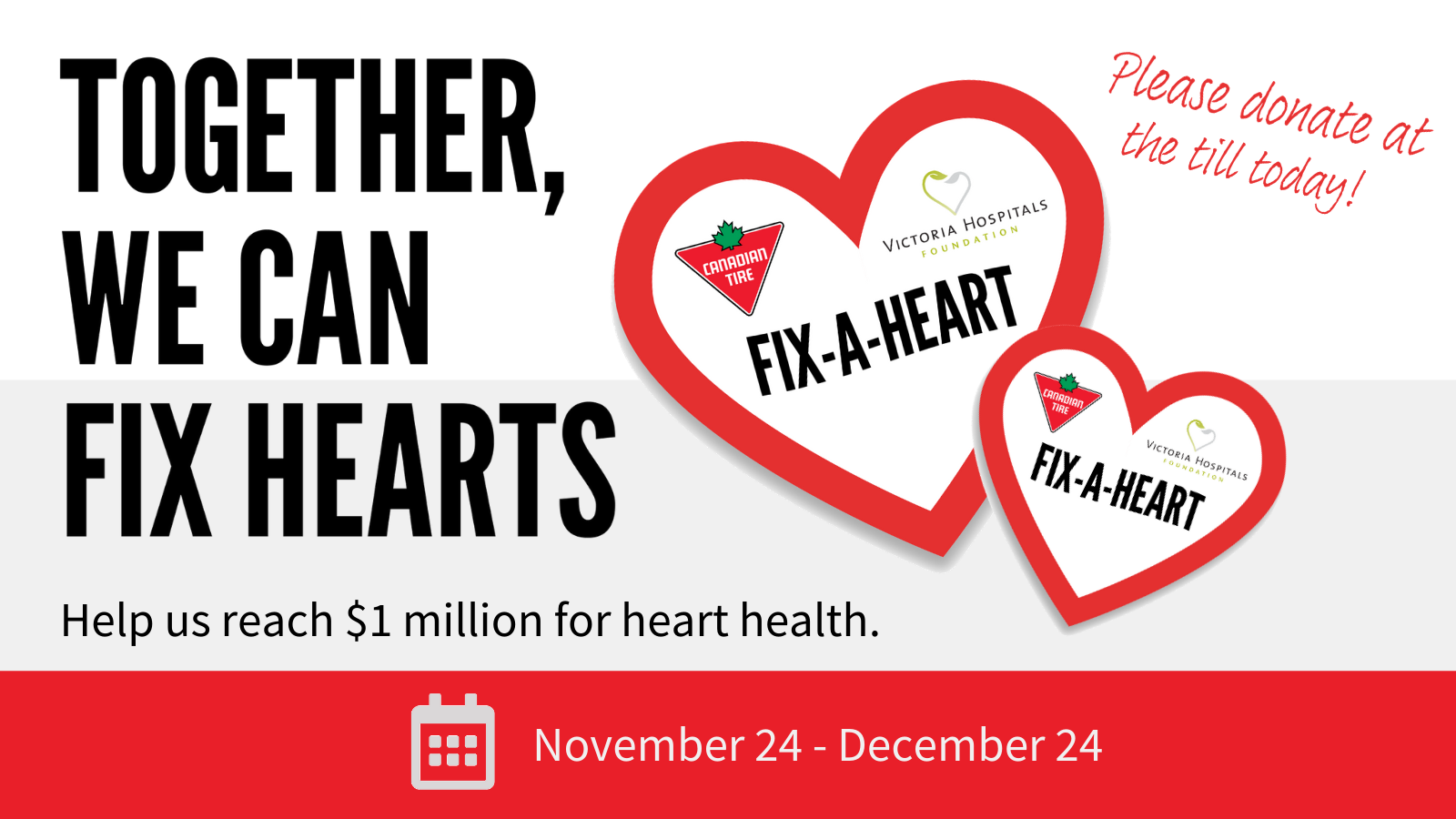 Together, We Can Fix Hearts
Local Canadian Tire stores have launched the 18th annual Fix-A-Heart campaign to support Victoria Hospitals Foundation and equip the Heart Health program at Royal Jubilee Hospital (RJH). From November 24 until December 24, 2020 customers at the Hillside, View Royal, Royal Oak, North Saanich and Langford stores, as well as the Gordon Head automotive centre, can donate any amount at the till towards urgently needed cardiac equipment.
The initiative started in 2003 by former Langford Canadian Tire store owner Peter Spillette, a champion of cardiac care on Vancouver Island. When Peter passed away in 2008, Canadian Tire owners and staff honoured his vision with a $1 million commitment for leading-edge cardiac equipment at Royal Jubilee Hospital.
Since 2003, the Fix-A-Heart campaign has raised more than $915,000 for Victoria Hospitals Foundation in support of cardiac care on Vancouver Island. This year's goal is to reach $1 million cumulatively raised. To get there, we need your help. Please consider a donation at the till when visiting your local Canadian Tire store this holiday season.
Royal Jubilee is the Heart Health referral centre for all 850,000 residents of Vancouver Island. The Heart Health program administers to cardiac needs such as open-heart surgeries, angiograms, angioplasties, cardiac device insertions and electrophysiology procedures.
To learn more about cardiac care needs and the Heart Health program, visit www.victoriahf.ca/cardiac-care.
https://www.victoriahf.ca/wp-content/uploads/2020/11/1-1.png
900
1600
Victoria Hospitals Foundation
https://www.victoriahf.ca/wp-content/uploads/2018/04/vhf-logo.png
Victoria Hospitals Foundation
2020-11-23 21:19:12
2020-11-24 17:57:22
18th Annual Fix-A-Heart Campaign