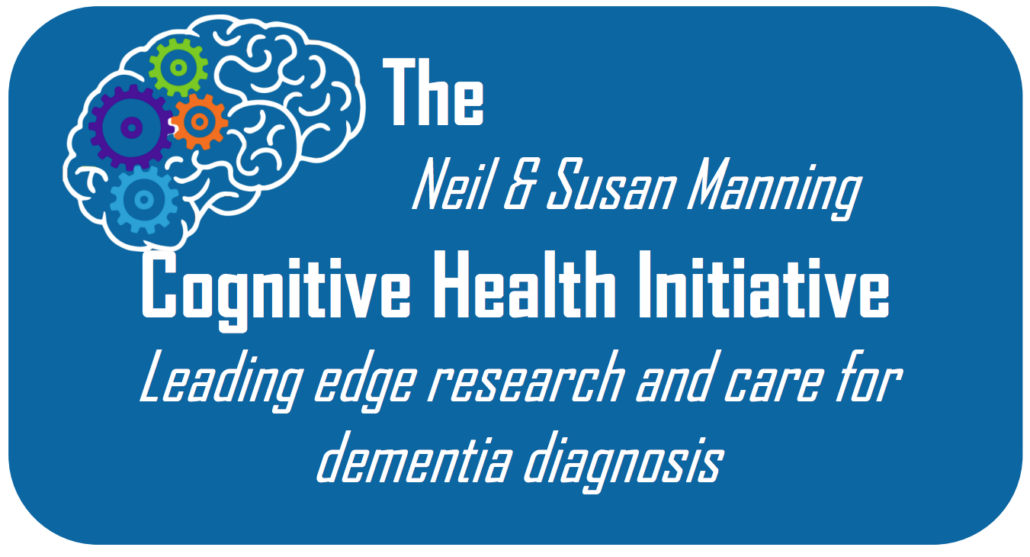 A family who has been impacted by cognitive health issues inspired Island Health, the University of Victoria (UVic), and the University of British Columbia (UBC) to partner and develop the Neil and Susan Manning Cognitive Health Initiative. Established in 2017, this innovative five-year project integrates leading-edge research and care for patients living with cognitive health issues on Vancouver Island. The Mannings have made a generous pledge of $2.5 million to the Victoria Hospitals Foundation to fund the program.
The generosity of the Mannings is advancing cognitive healthcare on Vancouver Island in so many ways. One of these is the Seniors Outpatient Clinic at Royal Jubilee Hospital. Because of them, visitors to the Clinic have access to resources they need, faster. Patients and families are put in touch with a care team that is "all ears." This profound generosity meaningfully improves their experiences during a very difficult process.
Everyone who walks through the doors of the Seniors Outpatient Clinic is different. But what they have in common is this: they have personal stories. Stories of the places they've been. The career or hobby or passion that is their contribution to the world. The family or friends or co-workers they care about. The cherished memories that form the long arc of their lives. Often, they also have loved ones who witness the slow or sudden changes in their cognitive health. Changes that brought them through the doors to the Clinic. This story is about Thomas, and how the Mannings' gift has made a direct difference to Thomas' life and to those who love him.
Thomas was born and raised in Victoria. Known by his friends as Tom, he was the fourth of five children: three boys and two girls. He lived in the same family home all his life until he moved out. His siblings remember Tom as a bit of a wild child, who had trouble in school. Today, he would probably be diagnosed with dyslexia and offered extra help. He quit school at 16 and apprenticed as an automobile mechanic. Over the years, he overhauled a number of cars—and he loved working on them.
For a while, Tom worked out-of-town at a mine near Kamloops. He later joined the Operating Engineers' Union and became a heavy duty equipment operator. He worked extensively on highway construction, notably Dempster Highway and the Coquihalla Highway.
In his youth, says his sister Lucy, Tom had a drinking problem. "He is very proud of the fact that he's been sober since 1983," she says. "It was a major turning point in his life."
A new interest in travel led Tom to renovate a house in Chemainus into a hostel. He ran it for about 10 years, meeting visitors from across the globe. As a member of the Youth Hostel Organization, he travelled the world.
In 2004, Tom sold the hostel and moved to Sooke, where he managed a small resort owned by a friend. Tom soon began showing signs that something was changing in his personality. He wasn't able to perform his duties properly and ended up leaving the job. The owner of the resort, a friend of many years, reached out to one of Tom's brothers to voice concerns about Tom's health.
Not having a place of his own anymore, Tom moved in with a cousin in East Sooke, where he's lived ever since. Tom's family is very grateful to their cousin Don. He has been more of a brother than a cousin to Tom, providing Tom a place to live for the last 15 years.
In 2010, Tom went back to school and earned his high school equivalency in an adult program.
"He was very proud of it," says his sister Lucy. "His cognitive health was not at its best but he was able to do it with the help of a good and understanding teacher… who told Tom he was an excellent writer and not to worry about the math!"
Tom (far left) with his sister Lucy (far right) and family, 2019.
Unfortunately, Tom's cognitive health has deteriorated since 2010.
He understands that he has a "memory problem" and is very open to help from his family. He also lost his skills for bookkeeping and finances. In 2017, his sister Lucy became his legal representative to help him get his CPP and OAS. She also helps him with medical appointments.
"His long-term memory is intact. He remembers things from the past none of us can recall," says Lucy. "Yet, he'll ask you many times about something we discussed five minutes ago." And, somehow, his driving is perfect, she adds. "He can navigate himself all over the Island and knows exactly where he is."
Not long ago, Tom's family doctor referred him to a neurologist. Tom was then referred to the Seniors Outpatient Clinic and Dr. Alexandre Henri-Bhargava. Here, Tom benefitted from the Neil and Susan Manning Cognitive Health Initiative.
Lucy is grateful for the Clinic and Dr. Henri-Bhargava. They helped her navigate the programs and options for a person with a condition like Tom's. "In evaluating Tom's dementia, they were thorough and very empathetic. They were also very receptive to my emails and requests for signatures… This includes applications for benefits and residential housing applications," says Lucy.
Many people who visit the Seniors Outpatient Clinic are like Tom. They're living with cognitive changes. Thanks to Neil and Susan Manning, every one of them has the chance to take part in research studies when they receive care. Over time, these studies will provide useful data for clinicians. This data will help them identify symptom patterns and predictors. It will also help them develop a personalized treatment plan for every patient. This, in turn, may delay or even prevent the onset of dementia. Overall, these studies will improve outcomes for patients and their families. This is only made possible by the Neil and Susan Manning Cognitive Health Initiative.
At the moment, Tom's care team believe his cognitive changes are a result of Alzheimer's. With COVID-19, Tom has come to grasp the physical distancing protocols, Lucy says. Yet he still likes to go out into the community. "This worried us," she admits. "Tom was also beginning to need more assistance and better nutrition than we could guarantee on our own."
So Lucy and the family began the search for an assisted living residence for Tom.
"I've had useful conversations and advice from Dr. Henri-Bhargava and Tom's social worker at the Clinic," says Lucy. "Without their help, this process would be much harder. It can be difficult to discern one kind of care from another."
Lucy and the rest of the family are also filled with gratitude for the generosity of Neil and Susan Manning.
"On behalf of my family, I want to say a big thank you for funding the Memory Service within the Seniors Outpatient Clinic," says Lucy. "For the help it provides families and patients."
"As a family, we're so grateful for the support and advocacy our brother has received," says Lucy. "Your generosity supports people, like Tom, who are the most vulnerable in our society. People who otherwise could fall through the cracks. Thank you so much."
Even with recent COVID-19 challenges, they can access the Clinic remotely. Tom's care team continues to offer invaluable information and guidance.
Despite some of the obstacles Tom faces, he continues to enjoy himself. He loves to reminisce about the past and share his many travel stories. He likes to talk about Victoria and the changes that have occurred since his childhood. He remains very devoted to his parents and visits their gravesites regularly.
Everyone with dementia has a story. This is Tom's.
The generosity of Neil and Susan Manning has made an immediate difference in his life—as it does others'. It also has far-reaching impact. Because of these donors, we will learn more about the complex diseases and conditions of dementia. On behalf of the residents of Vancouver Island, we are grateful.