Rachel Leff & Peggy Quigg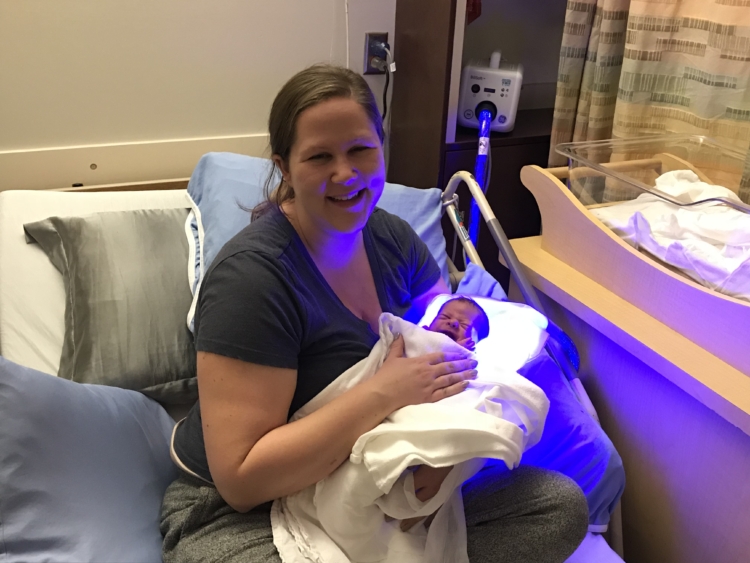 Mother & Babe Unit, Post Partum Unit/NICU
When Victoria resident and expecting mother Rachel Leff was induced at 36 weeks, she felt prepared for the journey and knew what to expect caring for a newborn. As a mother of two other children, Rachel Leff had gone through the experience before and was prepared to welcome her third child, Jasper, into her family. Although the delivery was relatively seamless, her newborn baby was unexpectedly born with jaundice, a condition caused when the liver does not break down red blood cells fast enough and produces a substance called bilirubin, leading to the yellowing of the skin.
"Having your newborn suffer from health issues is a terrifying experience," Rachel says. "Not only was it hard for me to see my baby unhealthy, it was also heartbreaking to be away from my other children."
Indeed, nothing is quite as terrifying as illness in a newborn or child. Thankfully, the team at Victoria General Hospital (VGH) is trained to support both mother and babe. Through exceptional care, they helped Jasper recover so he could go home for the first time to meet his family.
As the referral centre for maternity and pediatrics on Vancouver Island, VGH has one of B.C.'s four high-level Neonatal Intensive Care Unit (NICU) where are cared for the tiniest and most fragile patients in the hospital. One in six babies born at VGH will spent time in the NICU, including premature infants and those experiencing complications from cardiac, respiratory, ophthalmological, or auditory issues. With the help of neonatal equipment, our teams perform life-saving work every day.
"When a child is sick, we do everything we can to help them get well again," says Clinical Nurse Educator Peggy Quigg.
Peggy was born and raised in Victoria and has been a nurse for over 39 years. Throughout her career, she has always focused on Post-partum Care and is deeply grateful for the opportunity to tend to patients in her hometown — including some of the 3,000 babies delivered at VGH every year and their mothers. This includes mom Rachel and little Jasper.
Physiological jaundice, which Jasper was born with, is one of the most common conditions treated in the NICU. The livers of newborns are often not able to adequately break down bodily proteins right away, which can cause a buildup of bilirubin, a compound normally metabolized by the liver in the infant's blood. Using a transcutaneous bilirubin meter, a small, handheld device that operates without penetrating the skin, nurses are able to constantly monitor the bilirubin levels of infants, an essential part of caring for babies with jaundice. A bilirubin meter is pressed gently up against an infant's skin and takes a reading of the newborn's bilirubin levels. This procedure is repeated several times and the results are compiled to form a measurement.
"Each nurse in the Post Partum Unit/NICU has a transcutaneous bilirubin meter and measurements are taken often at set intervals to ensure a newborn's jaundice is being optimally managed," says Peggy. Bilirubin tests are quick, non-invasive and can determine whether more aggressive treatment or intervention is necessary. "It is crucial to monitor bilirubin levels because persistent undiagnosed neonatal jaundice can cause serious conditions such as permanent brain damage." If bilirubin levels are high, serum blood level tests are used to confirm the diagnosis and monitor bilirubin levels during treatment.
As part of its $3.5 million You Are Vital campaign, the Victoria Hospitals Foundation is raising funds for a new bilirubin meter, at a cost of $10,000. "Having an additional bilirubin meter in the unit means we won't have to wait until this vital tool becomes available," says Peggy. "It supports our team in ensuring we have enough bilirubin meters to conduct critical testing when we need to. It makes a difference for us nurses, but more importantly for the babes in our units."
To treat his jaundice, caregivers used a bilirubin blanket on Jasper. The blanket emits a light that breaks down the bilirubin in a baby's blood. The bilirubin blanket wraps around the baby and provides continuous phototherapy as fibre optic light shines through the blanket onto the skin. Donors to the Foundation, including the VGH Auxiliary, have funded this important equipment in the past.
For Rachel, the bilirubin tests gave her piece of mind knowing that Jasper was receiving the best possible care. "The fact that I was able to hold Jasper while the tests were being done and that the results were immediate made all the difference," says Rachel. "I was happy to know that Jasper did not experience any discomfort during the tests and that he was receiving the exact care he needed."
After 7 days at VGH, including time in the NICU, Rachel was able to take Jasper home. Although she stayed in the hospital longer than planned, Rachel is grateful for the care she received and is thankful that VGH had the tools and expertise to care for her newborn. Rachel is now able to focus on enjoying life as a mother of three.
https://www.victoriahf.ca/wp-content/uploads/2019/02/IMG_0151-e1550873698452.jpg
563
750
Victoria Hospitals Foundation
https://www.victoriahf.ca/wp-content/uploads/2018/04/vhf-logo.png
Victoria Hospitals Foundation
2019-02-22 20:11:58
2019-11-12 20:11:26
Rachel Leff & Peggy Quigg