Over 415 donors come together to equip new unit and increase mental health services capacity at Royal Jubilee Hospital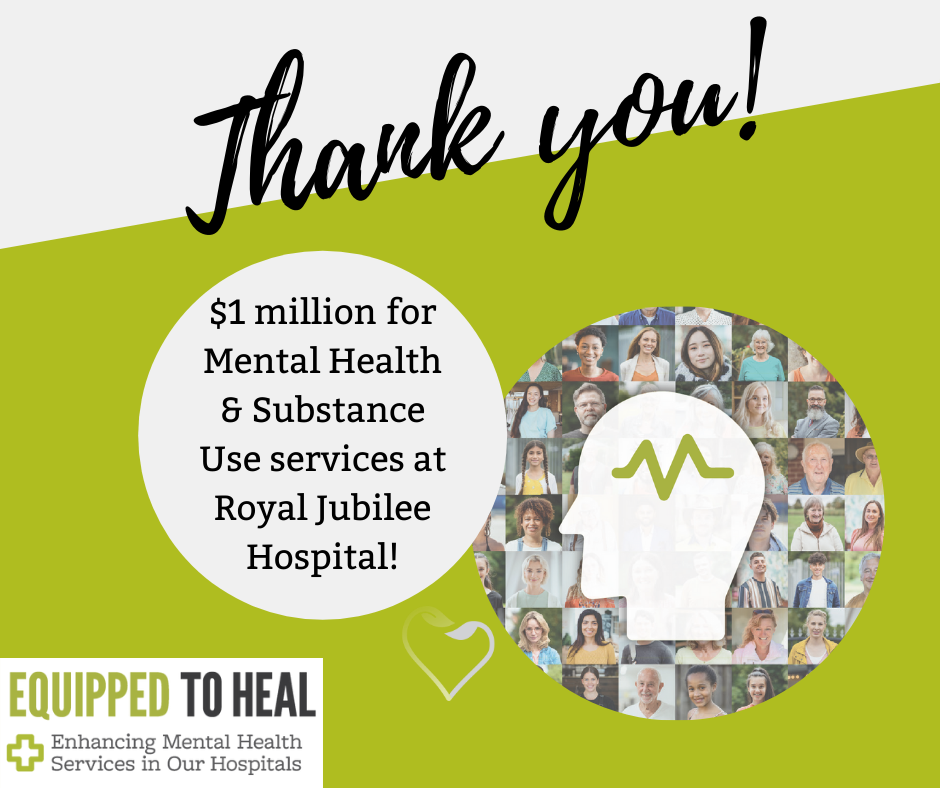 In just four months, over 415 individuals and corporations joined together to raise $1M for the Victoria Hospitals Foundation's Equipped to Heal campaign. The initiative was launched on June 14, 2021 to support Mental Health and Substance Use (MHSU) services at Royal Jubilee Hospital (RJH) and help respond to the increasing demands on the hospital. In a fitting manner, Equipped to Heal is closing at the end of Mental Illness Awareness Week.
"We took an important step forward to support mental health resources at Royal Jubilee Hospital. We understood the increase of psychiatric inpatient bed capacity needed here locally, and, are incredibly grateful for the support that has come through from the community," says Avery Brohman, Executive Director of the Victoria Hospitals Foundation. "Everyone who donated to this campaign has accelerated care locally for some of our most vulnerable patients. That is a feat that is important to honour, especially during these difficult times brought on by the pandemic."
Among donors to the campaign, the Foundation recognizes Island Savings for kick-starting Equipped to Heal with a generous pledge of $120,000. The credit union also hosted an ice-cream truck in the summer to recognize the MHSU care teams at Eric Martin Pavilion on the RJH campus.
A $250,000 gift from Mr. Douglas Hamilton in memory of his partner, Wilson S.C. Lai was made to accelerate the campaign. Mr. Hamilton sadly passed away a few days after making this significant gift—but he wanted to ensure it went toward a meaningful advancement in healthcare for our community.
The campaign was completed in record time thanks to an anonymous $100,000 gift by a family foundation. Compelled to inspire others, the family foundation launched a matching initiative to close off the campaign.
Equipped to Heal is helping equip a newly opened Sub-Acute Unit at RJH—the first of this kind for Island Health. Offering a new level of care, it helps reintegrate patients into the community by completing a recovery plan with strategies to achieve goals; connecting patients to MHSU community services for continuity of care; and engaging family, friends, and peer support workers for ongoing support. The unit will add up to 19 beds, increasing inpatient bed capacity for MHSU patients by up to 35%, an urgent need as existing Mental Health and Substance Use beds are often at capacity.
"As a psychiatrist, I am thankful our Islanders came together to advocate for my patients and the expansion of mental health services in our hospitals and in our community," says Dr. Wei-Yi Song, Department Head of Psychiatry and Medical Director for Mental Health and Substance Use Services for Island Health. "The impact of the pandemic on the mental wellbeing of our community is growing exponentially. It is something that will be with us long after we overcome the virus."
The Foundation acknowledges the bravery of our local caregivers and patient spokespeople who shared their healthcare journeys over the campaign:
MHSU needs are ongoing and donations are still needed. Community members can donate online at victoriahf.ca/donatementalhealth/
The Foundation is expected to launch its next campaign on October 21, 2021.
https://www.victoriahf.ca/wp-content/uploads/2021/10/ETC-completion-socials-FB.png
788
940
Victoria Hospitals Foundation
https://www.victoriahf.ca/wp-content/uploads/2018/04/vhf-logo.png
Victoria Hospitals Foundation
2021-10-08 07:59:08
2021-10-08 09:17:29
Over 415 donors come together to equip new unit and increase mental health services capacity at Royal Jubilee Hospital